The Ultimate Multi-Platform Software Firewall
With InJoy Firewall™ version 4 you can say good-bye to old-generation Firewall solutions that were difficult to implement, manage and measure — InJoy Firewall™ is different...
| | |
| --- | --- |
| | This multi-purpose Firewall readies you for the future through Deep Packet Inspection, unique MULTI-PLATFORM support, and market-leading IPSec VPN support. Its unparalleled network monitoring turns you into an SECURITY PROFESSIONAL with unique real-time insight into any network activity. |
Introducing InJoy Firewall™ version 4
Complete All-In-One Solution
The InJoy Firewall™ is a flexible firewall security solution for organizations of all sizes. It offers enterprise-class next-generation security, preconfigured policy templates - including full customization options, seamless IPSec VPN integration, superior gateway capability, intuitive management, access control, a wealth of documented deployment examples, unmatched control, and comprehensive documentation.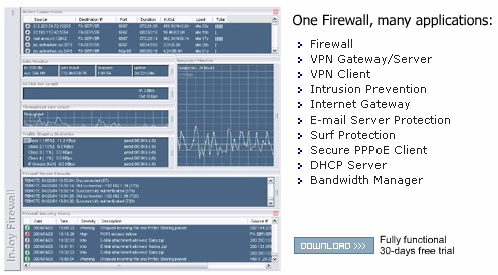 Multiple Operating System Support

License Types
The InJoy Firewall™ delivers universal flexible quality features in a way accessible to most people and industries, from the knowledgeable home-user to the largest enterprise. Check out the license types to select the version that's right for you.

InJoy Firewall™ - Enterprise Edition
InJoy Firewall™ - Professional Edition
InJoy Firewall™ - Personal Edition

MULTIPLE PLATFORM SUPPORT - FREEDOM AT LAST!
The InJoy Firewall™ solves the overwhelming problems related to managing multi-vendor, multi-platform security applications and devices. Finally it is possible to deploy the same level of cross-platform unified end-point security and backbone infrastructure throughout the organization.
InJoy Firewall™ FAQs
The InJoy Firewall is a software firewall. A technology partner has implemented the InJoy Firewall as a hardware firewall, but this product is not yet widely available.

In general, yes! All major features, such as the VPN support and the firewall protection, work exactly the same on the supported operating systems.

Yes. If you get a new IP address via PPPoE or DHCP, then the InJoy Firewall will automatically detect this.

Yes. IPSec VPN support is seamlessly installed with the InJoy Firewall. The VPN support can easily be configured to work as a powerful corporate VPN Server (with user authentication) or as a simple VPN Client.

The minimum requirements in general are a supported operating system, at least 1 network card and about 60MB of free disk space. For more information refer to the OS platform specific pages.

Install to the network adapter connected to the Internet.

No. The InJoy Firewall installs sample configuration files, typically with the extension ".cn_". Once you start the InJoy Firewall, these files are renamed into ".cnf" - however only if your own ".cnf" files doesn't already exist.

On Windows, refer to "Control Panel | Add or Remove Programs". On other operating systems, refer to the "uninstal*.*" script.

Run the folder script in the InJoy Firewall base directory or simply install again.

Yes. The InJoy Firewall installs at least one device driver. It's this low-level device driver that allows the InJoy Firewall to intercept network traffic before it can harm your system.

Yes. The InJoy Firewall offers both graphical and scripted installation. For silent installation, the setting in Windows 2000/XP to warn about unsigned device drivers must be disabled. The installation scripts can be easily changed to match special requirements.

Currently, the only way to update the InJoy Firewall is to download updates from our web-page and install it on top of your existing version. bww bitwiseworks GmbH is currently working on alternative (automated) solutions.

Generally no. However, be sure to check the operating system specific InJoy Firewall web-pages for the minimum requirements.

The InJoy Firewall GUI is graphical application, natively built for your operating system.

No. It's optional. Consider using the deskband toolbar if the GUI takes up too much of your desktop space.

Yes. The InJoy Firewall GUI provides remote administration, monitoring, and configuration of every major Firewall feature.

Yes. Security for the remote administration is ensured through an encrypted password that you can make unguessably long. The actual remote connection is scrambled using the high-grade AES encryption. All major GUI operations are logged and multiple failed GUI login attempts cause the offender to be blacklisted.

Yes. The remote GUI support is designed as a "plugin" for the Firewall Server. You can disable the plugin and thus completely prevent the code from running.

Yes. You can e.g. run the administration tool on your Windows desktop and control a firewall running on any of the other supported platforms.

Yes, about as many as you want and you can connect them to different Firewall Servers around the world - or to the same single Firewall.

By default port 3333. You can change the port number.

Yes. However, there is a sample firewall rule that you can easily enable and customize in the rule workshop.

The user interface has been designed to offer modular and customizable access to the information gathered by the InJoy Firewall. The different visual themes allow the GUI to "morph" into the look that best matches its mission.

Yes! On Windows there is a toolbar deskband that will provide you all the essentials directly from your Windows task bar. It helps you keep the Windows desktop free for other applications, while at the same time being able to monitor your firewall.

Yes. You can connect it either to a local or remote firewall server.

Yes. The logview application provides a single location for firewall log viewing. The benefit of the log-viewer is that you can customize it to view any log-file.

Because web-based applications (across different OS platforms) do not offer the performance and reliability required by the real-time monitoring offered by the InJoy Firewall.

Unfortunately, because of big-business tactics, the Java support is no longer a common component. Further, the many different Java versions makes it hard to base the development of a multi-platform security application on the Java technology.

Yes. If you operate just a single PC, a small home network or a small business. It is of course recommended that you step through the firewall properties and study the default security level to make sure the defaults match your actual expectations.

If the InJoy Firewall is to stealth your PC, it can not simply take over your existing connections. Starting the InJoy Firewall is like resetting your Internet connection and it thus requires your network applications to re-connect.

Yes. By default the InJoy Firewall is configured to safely share your Internet connection. See the networking FAQ for more information about how to configure your IP stack for the InJoy Internet Gateway.

By default, all inbound traffic that does not result from an outbound request is blocked. For example, if you browse a web-site on the Internet, the returned web pages are allowed through because they result from an outbound connection. At the same time, any unsolicited incoming messages are blocked unless specifically allowed in the rule database.

Yes. All ports on your Internet server and internal network are stealthed by default. The term stealth refers to the ports on your PC being completely invisible to attackers and scanning applications.

Yes. The File and Printer resources uses TCP ports too and they are made completely invisible by the InJoy Firewall (stealthed).

At the default security level (5), the InJoy Firewall is designed to be minimally intrusive and instead of blacklisting remote users, suspicious traffic is simply blocked. If you switch the firewall to security level 6, port-scanners and other attackers start to get blacklisted. To get a good overview of how InJoy Firewall tackles each possible type of attack, please read the security summary next to the security level slider (in the "security level" dialog).

Yes. At the default security level (5) they are detected and a security alert is logged. To make sure port scanners are blacklisted, raise the security level to 6 or higher.

No, not by default. It can be enabled in the "File | Properties | Firewall Server" dialog.

No, not by default. It can be enabled in the "File | Properties | Firewall Server" dialog.

For example the "HTTP Request Log" require that the InJoy Firewall actually extracts and logs HTTP URL requests. At the present time, this happens on Security Level 6 and higher.

Security Level 5 represents what we believe to be the most appropriate compromise. Security level 0 is basically just a simple NAT router with packet filtering and security level 9 requires that you make rules for any traffic to be allowed. Both these levels represent extremes, while security level 5 is easy to get started with (even for beginners), it results in a minimum of false positives, and the security is second to none!

The Firewall Server is the InJoy Firewall process that actually protects your network. It must run whenever you are connected to the Internet.

Start the InJoy Firewall GUI from the InJoy Firewall start menu or desktop folder. Once started, step through the "File | Properties" dialog and verify the default configuration. In particular the internal network configuration and the DHCP pass through setting in the "Networks" tab should be verified. Once you have completed this step, move into the security level dialog and check out whether the security settings match your needs.

DHCP pass through is an easy way to allow your system to receive an IP address via the DHCP protocol.

During installation, the InJoy Firewall gives you the option to disable all traffic automatically if the Firewall Server isn't running. If you enable this option, all Internet access will be blocked if the Firewall Server process becomes inactive for any reason. This feature provides an extra layer of security for your internal network when unexpected hardware or software difficulties arise.

The InJoy Firewall is built around its own hardened low-level device driver technology on each supported platform. This allows it to offer protection at the network layer, without exposing Operating System components to malicious traffic. While intercepting traffic at the lowest possible layer, the InJoy Firewall itself operates in user-land, just like all your other applications.

Yes. By default, all inbound traffic that does not result from an outbound request is blocked. For example, if you browse a web-site on the Internet, the returned web pages are allowed through because they result from an outbound connection. At the same time, any unsolicited incoming messages are blocked unless specifically allowed in the rule database.

Yes. The intrusion detection of the InJoy Firewall is second to none. It relies on a number of the industries most powerful technologies to dynamically detect and block any type of inbound intrusion. If it's something you wish to learn more about, then please refer to the remainder of the InJoy Firewall web-site for more information.

That used to be how firewalls were designed and it required a lot of user-rules, which few people have the time and the attention span to deal with. With the InJoy Firewall you can however pick security level 9, and then only traffic specifically allowed by rule will pass through. We recommend this option only for TCP/IP knowledgeable experts.

Yes. At the default security level 5, all ports are stealthed. To change the setting, refer to the "Security Level" dialog.

Yes. You will see a security alert and if you jack up the security level to 6, they will be blacklisted as well.

Yes. The InJoy Firewall displays all inbound and outbound connections, each with its source and destination, state and bandwidth statistics.

No. As most firewalls, the InJoy Firewall checks Internet traffic for signatures of popular e-borne viruses, but on the network level, a firewall cannot ensure that you don't receive (for example encrypted) traffic with virus. A network firewall also does not check the files on your harddisk for virus. We strongly encourage that you install a virus checker to periodically check your computers for virus.

Absolutely not. The InJoy Firewall automatically blocks any traffic that it deems malicious, no matter if you look or not. However, it is strongly recommended that you keep an alert eye on the InJoy Firewall management interface, as your own brain is the most powerful tool in the effort of keeping your network safe over a longer period of time. Think of a firewall not only as a black box, but also as the interface between you and your Internet connection. The InJoy Firewall excels like no other firewall in the area of providing its users with deep insight into the network activity and security situation — so why not take advantage of that?

Yes. Step in to the Firewall Security Level dialog. In there, you see a slider, with which you can easily set up a base security policy for your Internet connection. If you need to customize the security level, simply click the custom push button and watch out for the on-screen hints.

That's up to you. If you are in doubt or don't have time to study the other levels, then stay at the default security level 5.

Packets get dropped whenever they violate the Firewall, IPSec or NAT policy. Packets can also get dropped if they were deliberately malformed (exploits) or if they went malformed in transit. The InJoy Firewall logs all dropped packets and you can see them in the management interface, together with the reason why they were dropped.

Yes! The InJoy Firewall VPN support works exactly the same on a multitude of operating systems, including Windows, OS/2, Linux and FreeBSD. The multi-platform support allows the network administrator to use all implemented features on any of these platforms, reducing the administrative burden and the chance of future crippling multi-vendor interoperability issues. Generally, both support and configuration efforts are dramatically reduced when the same VPN support can be used across all endpoints.

The VPN Wizard offers a way to quickly configure and establish an IPSec VPN through simple modifications to pre-configured template SAs. The VPN Wizard is simple for anyone to use and since it uses standards-based IPSec features, it is compatible with most other (but far from all) IPSec implementations.

The Tunnel Workshop provides another method of configuration, allowing detailed configuration of every individual option of the Security Associations. The Tunnel Workshop is what you should use if you need to configure an advanced VPN, which spans multiple types of devices and IPSec solutions.

Currently, a maximum of 1000 tunnels is supported. The limit is based on performance considerations and it can be increased on demand.

The InJoy Firewall offers a complete set of client/server IPSec features and it supports several operating systems. The InJoy Firewall VPN implementation is also highly interoperable and has been tested with most major VPN vendors. Both Ethernet and dial-up connections are supported, including pseudo-dialup connections, such as PPTP and PPPoE connections. In addition, the InJoy Firewall security features and rule database provides control over IPSec, allowing you to control everything down to least detail.

Yes. The InJoy Firewall IPSec implementation is capable of traversing NAT devices through the use of traditional port forwarding and also with the help of the more modern NAT Traversal technique.

Yes. The InJoy Firewall can work with dynamic IP addresses for IPSec VPN Clients. Even if the new IP address is assigned via a PPPoE connection, the IPSec support is notified and will successfully re-negotiates IPSec using the new IP address.

The InJoy Firewall supports fail-over and fall-back to automatically switch to a backup IPSec VPN Gateway in case the primary VPN Gateway stops responding. As the backup VPN Gateway stops working, the InJoy Firewall performs fall-back to the primary IPSec VPN Gateway. When both VPN Gateways are in out of order, IPSec cycles between them in order to maintain the VPN.

Yes. When using the InJoy Firewall as a VPN Client, you can specify the DNS name of the remote endpoint, rather than a static IP address.

No. The InJoy Firewall IPSec solution was developed and compiled outside of the USA (In Denmark, Scandinavia) and therefore is not subject to USA export limitations.

Yes. The InJoy Firewall IPSec implementation supports the IP Compression (IPCOMP) standard. IPCOMP offers compression for all VPN traffic, reducing the amount of data transferred over the Internet and thus minimizing the cost of Internet traffic and maximizing performance. Further, IPCOMP works to compensate any bandwidth absorbed by the IPSec payload added to each packet.

Tough question. Generally, our IPSec implementation works well with standards-compliant third-party IPSec solutions. However, many vendors have tampered with the IPSec standards and added proprietary algorithms (to help their users, protect market-share, etc). Unfortunately these proprietary extensions often limit, or even make impossible reliable multi-vendor IPSec connections.

The InJoy Firewall allows you to easily differentiate VPN and non-VPN traffic with its firewall rules.

Yes. Switch to Security Level 10. It will allow only IPSec and DNS traffic to pass through.

Generally yes. InJoy IPSec/IKE were tested with a multitude of major VPN vendors and found to be interoperable. More information is available in the support section of this web-site.

Yes.

Yes. For software bought directly from our homepage there is a 30 day money-back guarantee to cover technical defects.

If you buy from our purchase page, you get the license key instantly.

Yes. It adds 50% to the price.

The term "NAT users" is the number of internal IP numbers that can use the InJoy Firewall for Internet access. Any IP number that has been routed through the InJoy Firewall is counted.

The maximum number of IPSec users refer to the number of internal users (or IP addresses) that can be routed out through the IPSec VPN.

Certain resellers provide regional pricing, but it's not available directly from F/X.

We believe in affordable software. We maintain a cost effective organization and focus on creating quality software that markets itself - mainly through word of mouth.

A firewall is a system (hardware, software or combined solution) that secures access between two or more networks, usually an organization's private network (LAN) and the public Internet (WAN).

A firewall inspects network traffic and determines whether to forward it towards its destination. To fulfill this mission, modern firewalls will utilize a number of technologies, ranging from simple packet filtering to highly advanced deep inspection technology.

The Internet Protocol specifies the addressing scheme and the format of the packets being exchanged on TCP/IP networks (such as the Internet and private networks). Most networks IP in combination with the higher-level TCP protocol in order to establish a virtual connection between a destination and a source.

A network firewall operates within the context of the network. In other words, it operates solely on network traffic, without knowing exactly which applications and other resources on the PC that are in use. A network firewall will typically use technologies such as stateful inspection, packet filtering, deep packet inspection and intrusion detection (IDS) to provide protection for one or more PCs on the private network.

An application layer firewall examines network traffic, not just in isolation, but by analyzing the packet streams that make up the individual application sessions. This technique provides the firewall with a context that more accurately allows it to determine whether traffic is malicious. An application layer firewall delivers significantly better security than simple packet filtering.

Stateful inspection is a technique that allows the firewall to maintain a state for all connections going through it. With the scope of sessions, the firewall can determine whether a packet belongs to an existing connection and whether the packet respect the current state of that connection. With this information, the firewall can more accurately determine the probability that a packet is malicious.

A dynamic firewall uses adaptive next-generation firewall technology to detect malicious activity and to make real-time adjustments to the security policy. For example, if a remote attacker probes a certain number of port within a certain time-interval, the dynamic firewall can automatically block all future traffic from that IP number. A dynamic firewall will typically base its behavior on a mix of static signatures and behavioral rules technology.

Deep packet inspection is a technology where traffic is analyzed not just in isolation, but in the packet streams that make up the individual application sessions. By analyzing both state and protocol compliance, deep packet inspection can spot odd behavior that might signal a brand-new attack. Further, with deep packet inspection firewalls, any threat is usually followed up with some kind of dynamic response to block the attack.

To understand next-generation Firewall technology, consider your own thought process. To detect potential threats from "unfamiliar people", your brain compares observed behaviour against expected behaviour. Next generation firewalls mimic human behavior by running traffic through fine-mesh nets of carefully crafted firewall rules and by analyzing an aggregate history of the remote endpoint - within a defined period. By using these techniques, a firewall is able to pick up on any first signs of abnormality and more accurately determine the overall threat level. Once a serious offense is detected, such as repeated login failure with a network service, the firewall can automatically blacklist the remote offender and administratively log the event.

Stealth mode is when a firewalled network is completely invisible to the outside world and attackers. In other words, a stealth network must not run any publically accessible network services and it must not respond to ICMP pings. Stealth mode is achieved by maintaining a table of all connections and filter out ALL inbound packets that don't belong to any current session. Stealth mode is one of the most used buzz words in the personal firewall market, however the actual protection gained from having a stealth mode system is a source of much debate.

Short for Network Address Translation, an Internet standard that enables a private network to use one set of IP addresses for internal traffic and a single public IP address for external traffic. The main purposes of NAT is to share an Internet connection, to allow the use of private IP numbers within an organization, and to hide internal IP addresses from the public address space.

Short for De-Militarized Zone, a dedicated part of a network that is directly exposed to Internet traffic without necessarily having access to internal networks. Typically, computers in the DMZ have publically routable IP numbers and are used for running services, such as Web, FTP and SMTP servers. Often the DMZ is considered a safety measure, based on the idea that it's too dangerous to place these public servers on the internal network, in case they are hacked.

The Security Association (SA) is the essential configuration entity in IPSec. It holds the current tunnel parameters, encryption keys and other configuration data required for proper encrypted communications.

Internet Key Exchange protocol (IKE) is an automatic key exchange protocol that exchanges security parameters and keying information (cryptographic keys) between IPSec endpoints.

When your Internet traffic makes the traffic indicators in the Firewall GUI react, then the InJoy Firewall is installed properly and working to protect you.

No, the files on your harddisk are not checked for virus by the InJoy Firewall. We recommend that you install dedicated anti-virus software for that purpose.

It definitely is enough for some, as it allows you to close your ports, which by itself is one of the most powerful security measures. The XP firewall however does not compare to dedicated firewalls, neither in terms of control, features, security or network monitoring.

Yes. The InJoy Firewall delivers complete security, IPSec VPN and Internet Gateway capability across all the major OS platforms.

Yes. The InJoy Firewall has been in continuous development for more than 6 years and support subscriptions are available to corporate customers.

A single InJoy Firewall can handle up to a 1000 internal users.

It can theoretically handle up to 10000, however the normal distribution is limited to 1000 remote VPN Clients. Supporting more remote VPN Clients require VPN hardware acceleration support.

Yes.

Yes. It supports both fail-over and fall back.

Yes. We offer both graphical and scripted installation. For completely silent installation, the setting in Windows 2000/XP to warn about unsigned device drivers must be turned off. The installation scripts can be easily changed to match special requirements.

During normal operation, the InJoy Firewall does not require user intervention.

Yes. The InJoy Firewall is ideal for consultants, as it's a very flexible and customizable low-admin product.

Yes. With the modular architecture, the standards-based operation, the multi-platform support and the complete feature set, it is indeed an ideal solution for firewall solution providers.

Yes. It uses standard intel-based hardware, it supports hardware VPN acceleration and through the modular architecture it can be customized to the exact needs.

In general the answer is yes. However, results can vary with the remote controlling solution used, as InJoy Firewall driver installation will briefly disconnect the Internet connection.

Yes. Everything in the InJoy Firewall can be configured in plain text.

Yes. The InJoy Firewall GUI allows you to trigger the execution of 2 pre-defined scripts on the [remote] Firewall Server. This allows you to remotely trigger the InJoy Firewall Server to perform specialized tasks, such as updating itself with new binaries, restart certain services, or similar.

Yes. We have solution and technology partners that resell the InJoy Firewall under their own brand.

Because the InJoy Firewall is easy to use and undoubtedly has become one of the most powerful and complete software firewalls in the world.

To provide the market's single most powerful Firewall and VPN solution. A solution that works with all the major operating systems and is a joy to use.

Firewall security logs and IPSec VPN logs tend to run full. When that happens (at the 2-10MB boundary - depending on the log file), the log is renamed to a .bak file, where after logging to the original file name continues.

Yes, by default all IP packets are defragmented before they analyzed by the firewall engine.

Yes. We alter the Maximum Segment Size in new TCP connections. This shields you from the most common MTU problems. You can tune the MSS value in the dialog "File | Properties | Intermediary".

Because we cannot base our multi-platform security product on another security product.

One size does not fit all when it comes to network security needs. Network security personnel have been forced to buy multiple large software packages to get the few features that they really want or need. Instead of pre-packaging our solutions with different fixed configurations, each feature is a separate, loadable module.

Incoming (or inbound) traffic refers to traffic coming from the external network (typically the Internet) to your private network. Outgoing traffic is the exact opposite.

Generally yes. InJoy Firewall can protect a PC that has only one (1) network card, however, if you also have an internal network, you will need to use IP aliasing on your server. The exact details are beyond the scope of this FAQ.

Yes. A TCP/IP network where all work-stations can ping each other and where internal PCs use the Firewall PC as their default gateway (route).

Even if the InJoy Firewall PC does not require NAT for Internet access, several of its features make use of the NAT functionality. For this reason, licensing also includes one (1) IP address for the InJoy Firewall in its total NAT node count.

The list of networks that are subject to NAT is located in the "File | Properties | network" dialog of the InJoy Firewall GUI. If you need to NAT more than 3 networks, refer to the file config/gateway.cnf and manually edit it. Up to 7 internal networks can be specified in this fashion.

Create a bidirectional firewall rule, with your IP address as Source, 80 as the Source Port and Allow as the Rule Action. This will permit incoming traffic to port 80 (the http web server port) through the InJoy Firewall. In the Rule Workshop a ready sample rule exist, which you can enable by right clicking it in the list and selecting "Rule Status | Enable".

Ports 10000 and higher are reserved for NAT.

Most Operating Systems are installed with a DHCP client enabled. If you have previously configured TCP/IP to use a static IP addresses, then step into the OS TCP/IP properties and enable "Obtain IP address automatically". Notice: you might see different wording on different OS platforms and also for the IP address and the DNS server addresses (which can both be either statically or dynamically specified).
For more information about the InJoy Firewall, refer to the online documentation
The Evolution Continues
Future-proof deployment

The InJoy Firewall™ readies customers for the future through powerful next generation firewall technology, Linux support and easy-to-deploy cross-platform unified VPN capability.

Easy Administration

IT administrators are busier, and embrace more technologies, than ever before. The InJoy Firewall™ targets these busy professionals and is designed to offer relief and effectively release IT resources.