Updating Qt to 5.13 in the works
28.08.2019

Qt 5.13.0 is the latest version of Qt available at the moment. We have already updated Qt Base to 5.13.0 and also made it compile and run on OS/2. Next steps include:
Port Qt Tools modules to OS/2 (contains translation and documentation tools needed by some Qt-based projects)
Port Qt SVG module to OS/2 (provides support for SVG graphics used as UI elements in many Qt-based appluications)
Fix some networking bugs
Release a new beta version of Qt plus some popular applications
Help and Support
You will find a lot of useful information about Qt 5 for OS/2 on the Wiki pages of the project's main github repository. There you may also watch the progress of our work on this port. Please read these pages carefully if you need any help or want to report a problem.

Sponsoring
To be able to finish our goals we need your support. Please sponsor as much as possible via our webshop or via our Patreon page.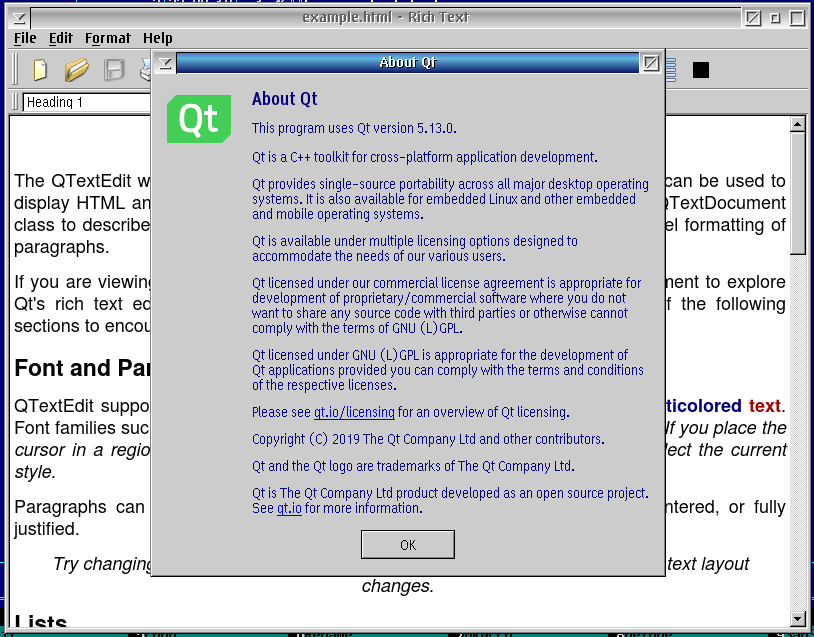 Qt 5 donation meter
16.08.2018

Below you find the current state of all fundraising campaigns to port Qt 5 to OS/2
We estimated that we need around 42000 €.
As of 15.09.2019 we collected 29175 €.

Please help us to reach our goal.

More on the Qt 5 Port can be found here.